Why choose an LMS like Graspway?
Graspway is the LMS (Learning Management Platform) created for you. Using our platform you can offer a unique and personalized learning experience to your students. Our training platform is specially designed for educators, training centers and companies as well as for students. Graspway will provide a comprehensive learning platform that covers your training and corporate knowledge needs.
An adaptable and comprehensive e-learning platform
In Graspway you can use the features you need. In an attractive & easy way. Specially made for your students and for you.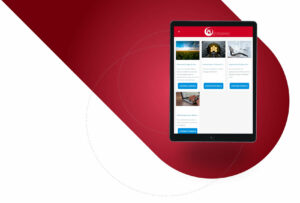 The LMS created for the user...
With Graspway you will create a totally intuitive learning environment for your students. In addition, you will be able to create from scratch and organize courses making them as attractive and interesting as possible for your users - a unique pedagogical experience!
In addition, thanks to the usability of the platform's interface, Data Analysis and the functions of Learning Analytics are facilitated, enriching the work of the whole team.
...which can also be fully managed
Manage all your training processes quickly, easily and intuitively. You will be able to analyse the activity of the students, courses, processes and objectives (activity monitoring and analysis).
In addition, with Graspway you will be able to measure the learning level of your audience, monitoring the metrics. In this way, you can improve the learning experience using real data from your students.
The numbers guarantee the quality level of our LMS
+900
More than 900 companies use our solution
+17000
More than 17,000 online courses
+40M
More than 40 million people learning
Graspway Standard
Scalability, robustness, and the power of the Open edX® platform with all the best of WordPress: easy editing, great SEO behavior, and a huge range of extensions and themes available on the market, plus SSO and data-driven management of G-Core, our secret sauce.
Graphic adaptation to the needs, roles, content and categories.
Importation of users and data.
Landing page course for editors, students and administrators.
Deployment and parameterization on cloud.
Graspway Advanced
The advanced version is intended for demanding learning applications under a more complex training process. Consequently, it allows to create a greater number of profiles and content categories and implements a platform with a multi-client approach. Graspway Advanced also presents a functional orientation to data, positioning itself as a tool close to the current approaches to Machine Learning and Learning Analytics.
Every single feature of the standard´s version.
Multi-site support. With messaging system.
Multiple role setting.
Category, theme & content settings.
g-Core extended reports and features
Graspway Enterprise
Graspway Premium is the power of Data and Learning Analytics built on Graspway Advanced. It is important not only to see graphs, tables, filters, export files and so on: when you have a lot of users and courses, you need to use the data generated by your students to improve their training.
Course, student level and entity metrics.
Data pattern analysis.
Engagement metrics.
Machine learning algorithms