The e-learning platform that grows with you
Graspway is the e-learning platform designed to offer a unique learning experience, with various types of users that allow you to manage it in an integrated manner. Create, edit and manage both users and courses, organizing the training content you offer and monitoring the learning of your students. You can also create training routes, evaluate your students and monitor your courses quickly and easily.
The adaptable and comprehensive e-learning platform
With Graspway you have the functionalities you need, as the user experience is at the heart of the platform.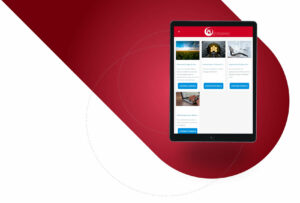 The user at the centre of the e-learning platform...
With Graspway you will create an intuitive learning environment for your students. In addition, you can create, edit and organize your courses from scratch making them attractive and interesting for your students - a unique teaching experience!
Our e-learning platform is created by combining WordPress with the Open edX® platform and adding advanced metrics. In this way, you can enjoy the most powerful and versatile online course tool with unparalleled ease of editing and publishing.
...which can also be fully managed
You will be able to create, edit and manage all types of courses, training routes, exams and certificates offering a unique educational experience. In addition, our platform also allows you to save time on administrative tasks, making you able to focus on what really matters: increasing the knowledge of your audience.
The quality of the technology we rely on based on numbers:
+900
More than 900 companies use our solution
+17000
More than 17,000 online courses
+40M
More than 40 million people learning
Graspway Standard
It allows you to create, edit and manage your own courses quickly and easily. In addition, you can also monitor your students' learning and monetize your online training.
Graphic adaptation to the needs, roles, content and categories.
Importation of users and data.
Landing page course for editors, students and administrators.
Deployment and parameterization on cloud.
Graspway Advanced
This advanced version is designed for companies and demanding educational institutions that need to create more complete training routes. Likewise, it allows the management of a greater number of profiles and content categories, being able to create a multi-brand platform in case it is needed. This plan offers advanced metrics both per course and per student, which allows to improve the training of the students.
Every single feature of the standard´s version.
Multi-site support. With messaging system.
Multiple role setting.
Category, theme & content settings.
g-Core extended reports and features
Graspway Enterprise
In this plan we combine the scalability, robustness and power of the Open edX® platform with all the best of WordPress, adding the power of data and Learning Analytics. With this plan you can make prescriptive decisions thanks to the graphs, tables and conclusions to optimize the training of your students.
Course, student level and entity metrics.
Data pattern analysis.
Engagement metrics.
Machine learning algorithms