Graspway is the comprehensive learning platform that allows you to create a totally unique and personalized educational experience for your students. With our training platform, you can completely manage your students and follow their training without much effort thanks to our advanced metrics.
Graspway allows you to create, edit and manage all types of courses, training paths and exams, offering a differentiated educational experience. In addition, it offers you the ability to efficiently manage the administrative tasks of your centre, focusing on what is really important: training your students.
The complete and accessible educational platform
With Grasway you can digitize and manage your students' training with a learning platform available 24 hours a day, 365 days a year. In addition, you can also have a Mobile App so that your students can view their courses from their smartphone or tablet (both IOS and Android).
Our platform is designed to cover all the needs of your training centre!
Based on the Open edX® and WordPress platform
We combine the most powerful and versatile online course tool with the ease of editing and publishing content.
Customization and graphic adaptation
You can easily customise your platform with your school's corporate identity: logo, colours, claim and much more.
Multiple student registration
Easily upload all your students by importing a CSV file. This will save you a lot of time on repetitive procedures!
Complete management of the platform
You can manage different user roles, as well as metrics that measure student learning. Likewise, you have the ability to include training paths organized by courses or by type of student, thanks to learning path builder and organization builder.
Mobile App
Your students can access and enrich themselves with your content through any smartphone or tablet (IOS and Android).
Evaluations and certificates
Teachers have the ability to configure both automatic assessments and the issuance of certificates. In addition, the "peer review" functionality allows the evaluation of essays and exercises to be developed.
Much more than an educational platform
At Graspway we combine usability with efficiency and data capacity to offer teachers and students a unique learning experience.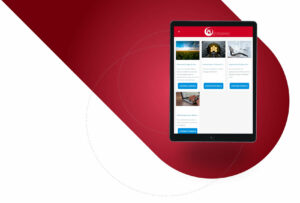 The educational platform created for the student ...
In Graspway you can create and upload all kinds of training content: courses, videos, computer graphics, images, etc., achieving a unique teaching experience.
In addition, you can improve the educational experience of your students with a differentiated and intuitive learning environment. Optimise learning by creating and organising courses with training routes created for this purpose. You can also create forums, online chats and even notifications for your students, boosting their motivation and memory of the content.
Graspway is designed for your students!
... that can be managed in its entirety
From the first moment you have access to different user roles and to the management of the platform. In addition, thanks to the advanced metrics you can see the degree of learning, improving the training experience of your students and reinforcing the areas that are most difficult for them to learn.