The best value, easy to start and scale LMS on the market today
Are you a mid-sized organisation, with offices and learning programs in many countries and languages? Do you have lots of learning tools and content, all of with different styles, codes, inputs, and types? Are you struggling to measure and manage learning compliance as the workforce is now so dispersed post-pandemic?
Graspway is an easy to implement, and affordable Learning Management solution to all your platform goals. Graspway unites the technology of the Open edX®, WordPress and G-core platforms to offer our users a powerful, simple and easy-to-manage tool. This e-learning platform gives the ability to create and show your catalogue of courses as well as a virtual classroom for teachers and students where all the teaching activity takes place. It's a complete platform with an admin control panel that manages courses, users, subscriptions, certficates, and much more!
Graspway operates on a Software as a Service (SaaS) basis, which is scalable, secure, and adaptable to the number of users you need, from only 50 active users, up to 10,000. You are about to start using the most powerful e-learning tool in the market. With Graspway you can create the training catalogue you want with all the online courses you need.
Contact us to get more information!
The versatile and customisable Learning Management System (LMS)
With Graspway you get the functionalities you need in a platform that is personalised with your corporate identity, allowing you to train your employees easily, attractively and as your company demands.In our corporate training platform, we combine the usability and ease of use of WordPress with the training capacity of the Open edx® platform, thus achieving a much more efficient training model for your employees. Graspway is the versatile, scalable and customisable learning management system (LMS) you need in your company.
Complete management of the platform
You have different user roles to manage the platform in an integrated way from the first moment.
Measure your employee´s learning
Thanks to access to complete statistics and metrics you can track both by course and by student.
Easily edit the areas or divisions of your organisation
With the organization builder you can organize and edit the different areas, departments and divisions you have in your organization.
Based on the Open edX® platform
You have a powerful and versatile virtual classroom to create online courses quickly and easily, offering training content both on the computer and through a mobile App (IOS and Android).
Create training routes
Create training routes for the public or department you decide on thanks to Learning Path Builder.
Data API
You can integrate Graspway with your BI, Data Lake or visualization tools in a fast, agile, and uncomplicated way.
Much more than a learning management system (LMS)
Graspway is the corporate training tool you are looking for. We combine Open edx® platform technology with WordPress to deliver an efficient, effective and easily scalable LMS. Our tool allows you to offer employees and partners the training platform they need to improve their professional skills.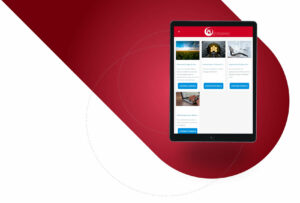 The LMS created for corporate training...
With Graspway you have the corporate learning environment you've always needed. You can create and organise your e-learning courses from scratch to suit your needs, structure and departments. Upgrade the professional skills of your staff and reduce their training costs!
Moreover, thanks to the platform's usability, you can access the data analysis and functionalities of Learning Analytics, which will help you to make prescriptive decisions and enrich the work of the whole team.
...which can also be fully managed
You have different roles to manage all your training processes quickly, easily and intuitively. In addition, you can include the look and feel of your brand and corporate colours, achieving an easily scalable solution, with advanced metrics to follow the learning both by student and by course.
If your company is in several locations, you should know that Graspway is a multi-language training platform that all your employees can use!