Thanks to our platform you can forget about infrastructure and focus on training
To be able to offer online courses is something fundamental nowadays. Graspway is the e-learning platform that allows you to digitize and control the training you offer to your students in a fast, comfortable and agile way, improving their learning experience.
Our training platform is designed to cover all your needs, offering a unique user experience.
Graspway is the tool that grows with your business. You will be able to use it for one student as well as for thousands, so you won't have to change platforms once your business grows!
The most complete e-learning platform
With our solution you can use all the features you need. But now, in an attractive, easy and specially designed way for your students and for you.
Easy to use
To use Graspway, you will not need manuals, nor will you need to attend a course. It is so intuitive, that you can start customizing your e-learning platform from the first minute.
Tailor-made training
You will be able to create and edit all the courses you need, making them totally customized. The training that your students have always dreamed of will become a reality with us.
100% responsive
All the courses and training resources always available to your students, 24 hours a day, from any place, and device!
The latest training trends
Graspway integrates the latest learning trends, putting them within your reach in a fast, easy and attractive way.
Manage your platform from anywhere
Our training platform simplifies all processes, providing tailor-made training. You will be able to access and manage the platform from anywhere.
Real-time data and metrics
All the data, metrics and reports you might need, at the click of a button. It's that easy!
Much more than a training platform
Graspway is the training platform you are looking for. We combine usability and efficiency, offering your employees and students the training experience they are looking for.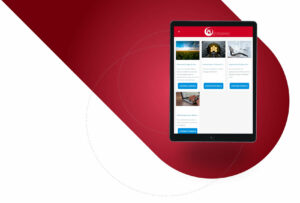 The LMS created for the user...
With Graspway you will create a totally intuitive learning environment for your students. In addition, you will be able to create from scratch and organize courses making them as attractive and interesting as possible for your users - a unique pedagogical experience!
Not enough for you? You should know that by having integrated different functionalities of Artificial Intelligence, Data Analytics and Machine Learning, your whole team will learn without realizing it.
...which can also be fully managed
Manage quickly, easily and intuitively all your internal corporate training and education processes. In addition, now you can have total control of: courses, itineraries, programs and corporate universities, configured for each profile.
In addition, with Graspway you will be able to request the learning level of your audience, monitoring the metrics. In this way, you can improve the learning experience using real data from your students.