You have already decided to implement an organisation-oriented e-learning platform. You've decided. So, now what? Among so many LMS platform options, you've ruled out a few options and you've come up with a popular one: Udemy for business, a learning solution mainly focused on organisational learning. In this article we tell you about this platform, what makes it good and what other tools do better.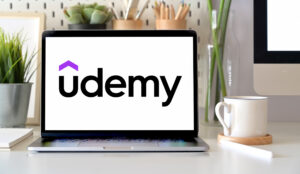 What is Udemy for Business?
Udemy is primarily an online learning platform and Udemy for Business is one of the solutions Udemy offers to businesses. Its purpose is to help teams, companies and organisations to help their employees learn.
It is therefore an LMS (learning management platform) that, unlike MOOC academic programmes created by universities, offers courses of different kinds, with content offered by people from different backgrounds.
At the moment, Udemy for Business offers more than 6,000 courses on emerging topics that keep your employees on the cutting edge. This means that the courses chosen for Udemy for Business have the highest user engagement and course ratings.
Types of plans and their costs on Udemy for Business
Udemy for Business offers two different plans and this will depend on the needs of the company. The Team plan is aimed at teams of 5 to 20 people while the Enterprise plan is aimed at a group of more than 21 people and has more features.
Additionally, Udemy for Business offers an additional programme called Leadership Development Programs, which is a programme with executive-level courses from top universities. We explain it in more detail below.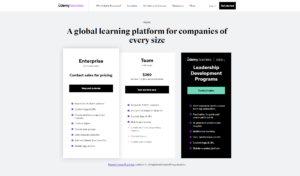 Team
The Team plan is a solution for smaller organisations with between 5 and 20 users who want to train their teams. This plan offers access to over 7,300 courses, analytics and reporting, as well as 24/7 customer support for you and your team.
Enterprise
The Enterprise plan is more comprehensive in terms of its functionalities. It is aimed at an organisation or group with more than 21 people. This plan trains teams from all over the world and offers more than 16,000 courses in 10 languages: English, French, German, Spanish, Brazilian Portuguese, Arabic, Mandarin, Turkish, Bahasa Indonesia and Japanese.
Leadership Development Programs
Finally, leadership development programmes have been created by CorpU, a Udemy company that designs leadership programmes. This scheme offers more than 100 executive-level courses from top universities.
Udemy for business plan costs
Below, we show you the most important differences including the functionalities that are different in each plan and the costs related to that:
Team
Enterprise
Number of users

5-20 users

21 + users

Number of courses available
Access to more than 7,300 courses
Access to more than 16,000 courses
Costs

$360

per user / year (plus applicable taxes)
Depends on the service offered. Need to request a sales quote.
Course Management
–

Assigning courses with personalised messages
Customised user groups
Advanced group management

Analysis and reports

User adoption.
Individual user engagement.

User adoption.
Individual user engagement.
Course perspectives.
Overall user activity.
Advanced engagement reports and dashboard for personalised content.

Integrations
–

Single sign-on
API: reports, course and user list reports
LMS integrations
Loose integration
Workplace integration

Support
24/7 customer service

24/7 customer service
Dedicated staff for customer success
Types of courses available on Udemy for Business
In Udemy for Business, there are a large number of courses available to partners. These courses are grouped into the following categories:
Skills for technology: These are courses focused on improving skills needed in technology environments for various sectors. In this sense, you can find courses on cloud computing, data science, and digital transformation, among others.
Business skills: These are courses focused on improving business skills of various kinds. Courses can be found on basic communication concepts, leadership, business skills and project and operations management.
Skills for emotional well-being at work: Where you can find courses on the relationship with others at work and human resources-related topics. Such as personal development and conflict management.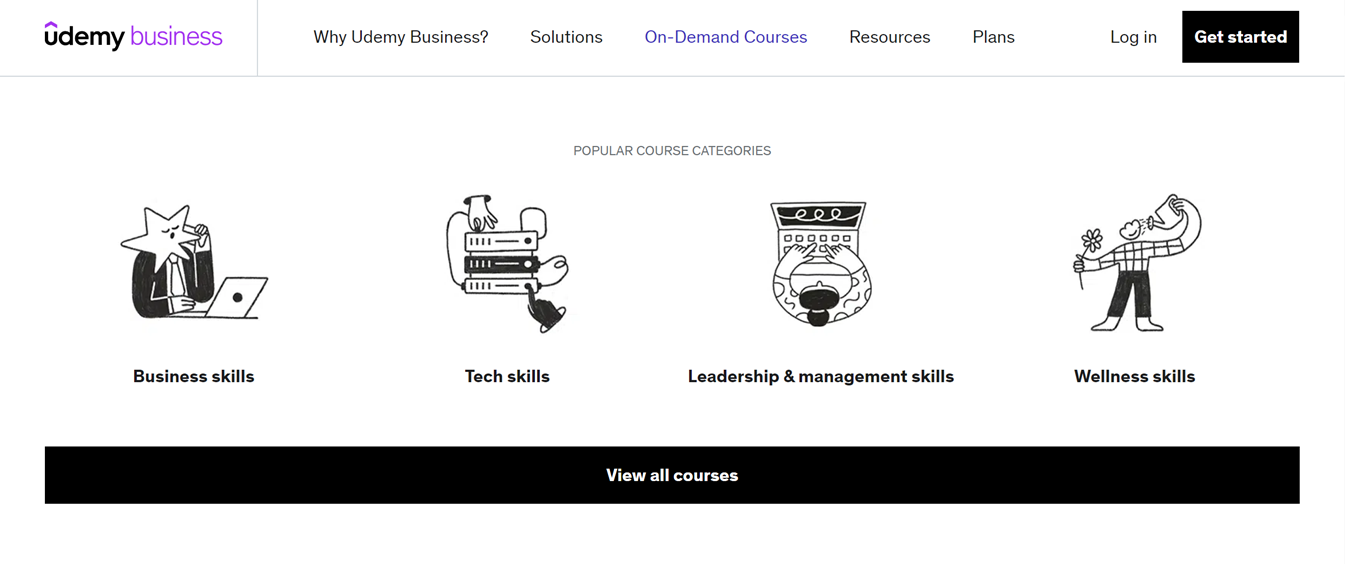 Advantages and disadvantages of Udemy for Business
In the following table we compare Udemy for Business with Graspway comparing the main features of each one:
Udemy for Business
Graspway
Price
In the highest ranges of the market.
Lower in the market.
Courses
Wide range of generalist courses available, that you can consume.
Specialised courses that reflect the specific knowledge in your organisation, that you can create.
Courses features

 

High-quality audio & video
Videos transcript
Q&A section.

High-quality audio & video

Learning path builder

Integrated video-conferencing
Personalised chat

Technology

Dashboards
Open edX integration, WordPress, Elementor, WooCommerce and own Control Panel (g-Core and web interface to manage the whole set).
Udemy for Business advantages
Courses
Udemy for Business has a wide range of generalist courses available on topics that are relevant to organisations such as technology, business and emotional wellbeing at work. These courses are updated regularly on a quarterly basis so you can be sure that they are the most relevant courses available. Additionally, courses offered on Udemy business must have a 4.4 rating and 25 reviews, to ensure that the highest-rated courses are being showcased on the platform.
This is a great advantage for businesses because if businesses know what courses their employees need on Udemy for Business, they are sure to find the courses they need to complement their employees' skills, especially if they are working remotely.
Courses features
The quality of the recorded video and audio is very good. Since many courses are taught by people in other languages, the transcript section is very useful when following instructors with strong accents.
Udemy also offers the option of speeding up or slowing down the video to better hear the instructors.
On the other hand, the question and answer section under each course serves as a forum to clarify the doubts that each person has. The ability to rate and comment on course content is a great feature of Udemy as it helps students to choose the best content and also helps instructors to maintain quality.
But we must say that it fails to provide other tools that can be useful for students such as the possibility of video conferencing. While on other platforms this is possible.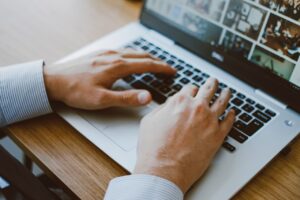 Disadvantages of Udemy for Business
Quantity vs. Quality
Despite offering a wide variety of courses, many courses are aimed at beginners or do not meet the expectations of users despite having good ratings on the platform. So, if you are looking for more advanced content or good content it is going to be a little hard to find it considering a large number of courses available on each topic.
Finding a course that suits your needs becomes a difficult task on such a generalist platform.
Therefore, if you are looking for the ability to offer your employees customised courses that are tailored to the skills of your company or organisation, you will also be limited.
In contrast, other platforms on the market such as Graspway offer more specialised services to their client's needs that reflect the specific knowledge in your organisation. If you need to create courses for your onboarding or do specific projects in Graspway you can do it.
Whereas on Udemy for Business you will only find general courses in categories that are already predetermined.
Also, not all courses that are available on Udemy are also available on Udemy for Business and some courses need to be updated as their content gets left behind.
Price
Udemy for Business offers a wide variety of courses, but they are limited compared to the courses offered by Udemy. This means that although it is a special plan aimed at businesses, the cost of the services is not reflected in the quantity and sometimes even the quality of the courses. The cost of the basic plan is higher than that of the competition.
Similarly, Udemy for Business offers only annual subscriptions.
This is not the case with platforms such as Graspway where the cost per user is lower and payment is made on a monthly basis. Companies invest in what users use, i.e. you pay for what you use for a service according to your needs.
Likewise, with Graspway you have the confidence of working with solid and reliable platforms such as OpenedX, WordPress, Elementor and WooCommerce.
Certification
Finally, Udemy for business is not an accredited platform, which means that the certificates they issue are not validated by a school or institution.
So, is Udemy for Business worth it?
In conclusion, Udemy for business is a solution that works to complement the skills that employees have in companies. It offers services that can work and this depends on the needs of each individual.
However, it has room for improvement. One of the most important points to consider is the cost and the lack of flexibility of its subscriptions and courses. Udemy for Business is an expensive alternative and will hardly be accessible for small businesses.
The difference to choose one or other platform would be between aiming for a platform that offers generalised knowledge on many subjects, or if you are looking for an LMS platform that allows you to create your own courses and make accessible the particular knowledge of your organisation to your own employees or alumni.